Private Hotel - Kyaing Tong - Eastern Shan state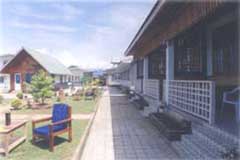 Private Hotel is situated in a quiet avenue, within walking distance of downtown and is the resort-style hotel in Kyaing Tong (the so-called capital of golden triangle). Currently 7 cottages are located in the 24000 square feet garden. The resort is designed in traditional South-East Asian style and is constructed out of local materials such as teak and pine.

Facilities
Electricity with back up generator for power failures, water purification system, telephone, car transfer from and to the airport, car and motorcycle rental service, tours and trekking services, laundry service.

The restaurant serves Shan, Myanmar, Thai, Chinese and some western dishes as well as drinks and snacks. 40feet x 35feet lawn is set up for traditional ethnic group dances.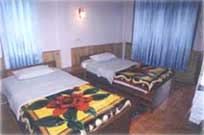 Guest rooms
Spacious double bedrooms [12.5 feet x 15 feet] with air-conditioner. The attached bathroom [12.5 feet x 7 feet) is fitted with hot-cold shower and exhaust fan. All bedrooms have windows that open to take advantage of the cool night breeze. All bedrooms have private verandahs for relaxation.

Travel information
Temperatures: February to June 20 to 35C, June to October 15 to 30C, October to February 5 to 30C.

Highlights : water buffalo market near Kyaing Tong, driving and hiking to hilltribe villages of La-Hu, Akha, Wa, Lwe, Palaung, Shan, and so on. Maung Lar border town between Myanmar and China, Tachileik border town between Myanmar and Thailand, mountain scenery, waterfalls and streams, handicrafts of hilltribe people, their culture.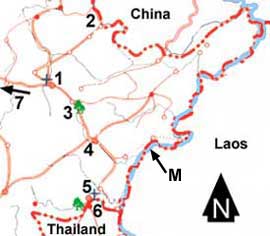 Kyaing Tong
Maung Lar (90 km from Kyaing Tong - about 3 hours drive)
Loimwe hill reserve
Mong Hpayak
Tachileik (160 km or about 5 hours drive)
Mae Sai (Thailand)
To Taunggyi and Inle lake
M = Mekong river

Kyaing Tong can be reached by domestic flight from other cities in Myanmar, and Tachileik of Thailand.

Please click
www.asterism.info to design and plan your Myanmar travel including hotel booking - view the pictures and more hotels
www.trekthailand.net/tours to join a nature/cultural tour in Thailand, etc.
www.ourweb.info our previous trip photos with description, and other information on Laos, Cambodia, Myanmar and Thailand
---
---
Photos essays, field reports - adventure, minority culture, beautiful life & environment
Pictures & information of unique travels in -
Thailand
|
Laos


Hike & Hilltribe village homestay to Salawin river, Mae Hong Son