National Parks in the South
Khao Sok National Park
Click here to view the map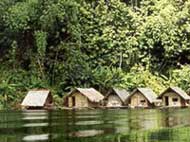 Topography and climate
Khao Sok national park is considered one of the most beautiful parks in Thailand. It covers 739 square kilometers of lush ever green rain forest in Surat Thani province. It became the 22nd national park of Thailand on 22 Dec 1989.

This area receives rain for 9 to 10 months a year. There are streams, waterfalls, caves, high limestone cliffs and hills thick with moist forest that contains twisted lianas, young trees, mosses, ferns, orchids and the giant red flowers called "Raffelasia". The park is home to many species of wildlife that may include Gaur, Serong, Tiger, Bear, Tapir , Gibbon, Monkey, Barking deer and many kinds of birds.

Tourist attractions

There are several fine waterfalls, streams good for canoeing, caves, georges in the park. Trekking, canoeing, elephant riding can be arranged in the park. Overnight treks into the deep forest are also possible.

Cheow Lan lake created by the construction of Ratchaprapa dam in 1986 is becoming popular. The lake has more then 100 islands. The lake together with the high limestone cliffs create a very scenic place to explore in a boat.

How to get there
From Surat Thani take the route no. 401 to the west. Between the kilometer markers 109 and 110 there is a turn-off road to the north leading to the park's entrance. This 1.5 km road to the entrance is lined with several private accommodations on both sides. From Phuket take the route no. 4 to the north until the intersection with the route no. 401, near Takua Pa town.

Accommodations and facilities
The park has 8 bungalows ranging in size from 4 to 9 people. There is a visitor center, campground, public toilets in the park. Just opposite the park's headquarters, and inside the park, there are a couple of guesthouses.

On the Chew Lan lake there are raft houses in four places. To get to the raft houses people need to go to the lake side sub station to continue in a long tail boat.