National parks in the North

Mae Surin Waterfall National Park
Click to map

Topography
Located in Mae Hong Son province, Mae Surin national park covers 397 square kilometers of rugged terrain. It was established in 1981 as the 37th national park of Thailand. The park contains some of the main peaks of Thanon Tongchai range with elevation varying between 300 and 1,700 meters above sea level. These highland gives birth to numerous streams and small rivers which are important tributaries of the Pai river, the main river of this region.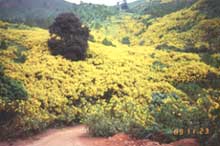 The three seasons of northern Thailand offer varied conditions within Mae Surin national park throughout the year. With the mountain tops and river valleys often wreathed in mist, the cold season (November to February) offers beautiful scenery, lush vegetation, and comfortable temperatures for hiking and camping. The temperature during the hot season (late February to May) can be somewhat oppressive in the lowlands of Mae Hong Son with a mean high temperature of 39ºC in the month of April. Rainy season is normally from June to October. This brings the forest into vibrant life and fills the rivers and their waterfalls to full capacity. While nature is at this time in its grandest state, hiking along the mountains will be quite difficult. Careful planning must be done for safety. White water rafting on Pai river is a popular activity during the rainy season.

Drastic variations in topography and soil types in this region have created numerous habitat types ranging from sparsely vegetated stands of broadleaf deciduous to lush stands of tropical evergreen forest. Flora of interest are: increasingly rare stands of teak, stands of temperate pine, and a number of orchid and wildflower species. Probable animal species present in the park include Malay sun bear, golden cat, common wild pig, barking deer, and serow.

Highlights and tourist attractions
Nam Tok Mae Surin (Mae Surin waterfall): A single jet of water leaping off a cliff face and plunging gracefully onto the rocks 100 meters below, Mae Surin waterfall is one of the tallest and most beautiful single tier waterfalls in Thailand. The fall can be viewed from the hills across the valley, or you can hike down the hills for a closer look. On the way to the waterfall, there are Karen and Hmong hill tribe villages as well as the famous Toong Buat Tong, or fields of wild sun flowers, which bloom for two weeks only in the month of November.

Nam Tok Pa Bong: Pa Bong waterfall plummets 20 meters before scattering into smaller cascades. It is conveniently located close to the provincial capital. During the hot season there is no water there.

Doi Pui: Doi Pui, a 1700 meters peak, is the highest mountain in the park and offers commanding views of the surrounding countryside. Its high altitude contains unique upland pine and the peak is covered in meadows of wildflowers which bloom during the hot season.

Huay Mae Sagert nature trail: If you are interested in bird watching, take your guide book and field glasses to Huay Mae Segert nature trail. Running along a small river, the trail winds its way through a lush tropical valley which is home to a vast array of bird species. For the non-birder, the trail offers a peaceful retreat into nature with a small waterfall at its end. Located at the trail head is a recreational area and a visitor centre.

Huay Fai Kor: Located at the park's headquarters and bordering the Pai river is Her Majesty the Queen's Project dedicated to conservation of flora and fauna. The area contains a recreational garden and a small zoo featuring a Malay sun bear, leopard cat and an aviary among others. About 200 meters away on the bank of the river is a recreation area which is an excellent place for swimming and relaxation.

How to get there
It is best to use the provincial capital as a base for exploration of the park. Mae Hong Son can be reached by bus from Chiang Mai and Bangkok, or by flight from Chiang Mai. From Mae Hong Son rented transportation is recommended since public buses normally do not go off the main roads.

Accommodations and facilities
There are three bungalows near the park's headquarters overlooking the Pai river. Two bungalows sleep 6 people and the other one sleeps 8 people. They must be reserved at least one month in advance. Tents can be rented from the headquarters and the substation at Mae Surin waterfall for a small fee.

Contact address
Namtok Mae Surin National Park
P.O. Box 16 Thambol Pangmoo
Amphur Muang, Mae Hong Son 58000