National Parks in the North-East
Khao Yai National Park
Click here to view the map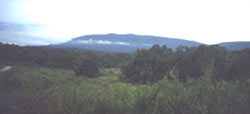 Located some 200 km from Bangkok , the Thailand's first and best known national park , Khao Yai , was established in 1962 covering the area of 2168 square kilometers.

The highest peak in the park is Khao Rom which rises to 1351 meters. The highest region is located in the north and west of the park, but much of Khao Yai is sandstone plateau with elevations between 600 meters and 1000 meters.

Average temperatures is about 29ºC in the hottest months of April and May. In the coolest months of December and January average temperatures could be as low as 17ºC and even lower at some times. Heaviest rain is received during the months of May till October.

The best known wild life in the park are elephants , gibbons and hornbills, however the areas still have at least 25 large mammals including Asian jackal, Asiatic black bear, Malayan sun bear, tiger, leopard, wild pig and deer.

Some 300 something migrant and resident birds species have been identified living in the park's lush forests.

The park has an extensive networks of marked and unmarked trails and it is necessary to obtain permission to spend nights at park outstations. There are at least 12 trails ranging from 2.5 km to about 10 km in length. These trails had been stumped out by wild animals. Most of the trails have color paint markings on the trees. Some trails start at the areas around the park's head quarters and it is necessary to hire a park's ranger for hiking difficult trails.

There are several waterfalls and caves in the park where local people visit on weekends and long holidays for a picnic.

Night spotlighting: The park offers spotighting tours every evening. Visitors need to buy ticket at a shop near the headquarters before 1800Hrs. Park provides a pick up truck with a powerful spot light. The one hour tour can be started at either 1900Hrs or 2000Hrs. Deer, civets, owls, porcupines, and snakes are often seen. Binturongs, small cats, elephants and slow loris are seldom seen.

White water rafting: This activity can be enjoyed during July to October on Sai Yai river in the south eastern part of the park. Please contact the sub station 9 (Sai Yai).

Accommodations and facilities There are domintory and houses for rent. Tents can be rented at a couple of campsites in the park.

How to get there
Catch a train or bus from Bangkok to Pak Chong. Then take a pick up truck at the intersection (highways 2 and 2090) to the northern entrance gate. From there hitch hike for 14 km to the headquarters. Or one can take a bus to the intersection of route 33 and 3077 near Prachinburi. From where get a pick up truck to the park's southern gate or to the headquarters.

Note: the roads 2090 (from the north) and 3077 (from the south) meet head to head at the park headquarters.

Contact address
Khao ai ational ark
P.O. Box 9, Pak Chong
Nakhon Ratchasima 30130
Tel: 037-319 002

Tours: We arrange 2 to 5 days trekking, nature walk and camping in this national park for small groups. These are for learning, self sufficiency; understanding yourselves, people and environment; communication with local people, taking photos, and relaxation. We can also include going to the beautiful interesting places outside of the park. If you have your own small group of 2 to 8 people please contact us using the inquiry form.