Marine National Parks


Topography
The area around Phang Nga Bay (Ao Pgang Nga) is geologically referred to as a drowned land full of irregular limestone region with sinks, underground streams, and caves. Over 40 islands of this description rise some 300 meters or more out of the milky brown grey water of the bay, creating one of the most photogenic secnes in the world.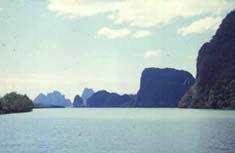 The origin of this region dates back to the Cretaceous-Tertiary period of about 136 to 36 million years ago. Coral and other marine organisms once flourished in this area, laying deposits over time with their rich calcium carbonate bodies. Movements following the Cretaceous-Tertiary period exerted enormous pressures on the sedimentary rock. These rupturing forces trusted the stiff limestone either upward or downward to sink below the water. The movement of the rock, coupled with glacial and water movement over time has resulted in the multi-hued brown rock formations we see today.

The fluctuation of sea water level partly due to the formation and melting of the planet's ice have contributed to those changes. These rise and fall of water level effect the ways of living of creatures including human beings in the areas.

The discovery of remains of ancient people includes rock and metal hunting tools, pottery, cave paintings.

Flora and fauna
The park contains a large expanse of mangrove forest which is said to be a largest in Thailand. Mangroves play very important ecological role in the coastal natural resource chain. They act as a buffer zone between land and sea, minimizing the erosion. And they serve as a gene pool for plant species.

The moist evergreen forest found on the coast and islands could be divided into two: limestone scrub forest and true evergreen forest. Along the cliff faces and crevice edges are limestone scrub forest of cycads, euphorbs, prickly pears. True evergreen forest is found in the valleys of the islands where the soil is deeper.

Surveys in 1991 suggest that the park has no less than 206 species of animals. Mammals include White handed gibbon, Serow, Smooth coated otter, Dusky langur and Crab eating macaque. There are many birds, reptiles and amphibians and marine life found in the park and the surrounding places.

Tourist attractions
Ao Phang Nga is a place with a little bit of something for everyone: geology, archeology, zoology. It offers amazing scenes, sports and other activities.

Many tourists come this place to do canoeing, karaking, boating, caving, rock climbing, trekking, camping, or just to relax and reload.

How to get there
From Phang Nga city drive to the sea on highway no. 4 (toward Khok Kloi district) for about 8 km to an intersection with route no. 4144. Continue on the route 4144 for 2 km to the headquarters. The boat pier (with an information center) is further down 2 km. There are long tail boats for rent.

Accommodations and facilities
National park keeps some bungalows which need advance booking. There are also privately run accommodations along the coast. If you plan to pitch a tent please inform the park office for permission and the place.

Note: When building fires take the wood (that has already been fallen) on the ground. Do not take branches off the trees. Watch your fire, and put it out completely when you leave. When hiking, stay on established trails. Respect local culture and tradition; nude and topless are inappropriate and are forbidden.