TrekThailand.net Photo(s)
1st Feb 2011 at the 3100m peak of Mt. Victoria in southern Chin state, Myanmar
10500 feet (about 3100 meters) high peak of Mt. Victoria or Nat Ma Taung or Kho Nu Tung in southern Chin state. We made the four day hike from Mindat town at the end of Jan 2011. During a week in southern Chin mountain state we also went to several ethnic hilltribe villages. For unique, once in a life time, small group private custom trips to Myanmar/Burma check www.asterism.info website.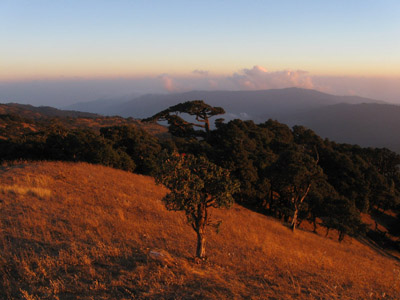 23 Jan 2011 at the peak of 1500m Mt. Popa near Bagan, Myanmar
On the month long trip in Myanmar we also went up the exploded open crater of extinct volcano Mt. Popa to its peak at about 1500 meters. The trail head is within few hour drive from Bagan - Burma's 11th century Buddhist archaeological site on the bank of the Ayeyarwaddy river.